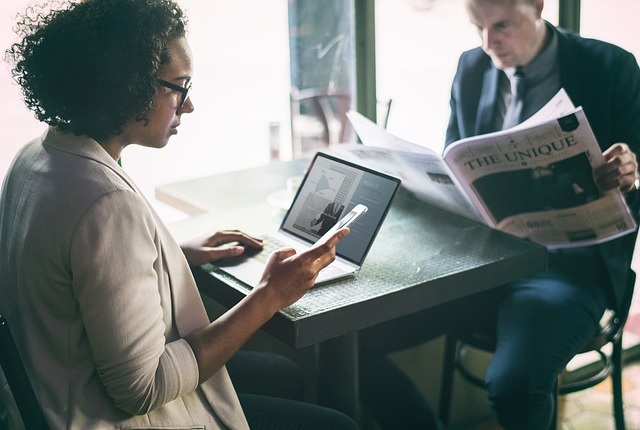 Restaurant Websites Can Be Sued For Accessibility
The following article "Lawsuits targeting business websites over ADA violations are on the rise" is from the LA Times.  To read this and other articles by Hugo Martin at the LA Time, click HERE
The boutique Avanti Hotel is known for its poolside, dog-friendly rooms. Yet its website uses the valuable opening page not to highlight the Palm Springs inn's amenities, but to explain, in stark black letters on a plain white background, that the Avanti violated the Americans with Disabilities Act.
Like thousands of other businesses in the United States, the 10-room hotel on East Stevens Road has been sued because it hasn't fully complied with the 1990 law that requires public places — hotels, restaurants and shops — to be accessible to people with disabilities.
But Avanti isn't being accused of failing to build a wheelchair ramp or install handrails — common charges in the scores of ADA lawsuits in years past. Instead, the lawsuit contends that the hotel's website can't be used by people who have problems seeing or hearing.
Avanti Hotel and others have been caught up in a recent wave of ADA lawsuits targeting websites across the country. The Trump administration's decision to stop drafting rules for website ADA compliance is widely seen as opening the floodgates to legal action.
Nearly 5,000 ADA lawsuits were filed in federal court for alleged website violations in the first six months of 2018, according to an analysis by Seyfarth Shaw, a law firm that specializes in defending such cases. The firm predicted that the number of lawsuits will climb to nearly 10,000 by the end of the year, a 30% increase from 2017.
With online sales, reservations and job postings now a huge part of modern commerce, advocates for the disabled say websites need to be as accessible to everyone, just as brick-and-mortar stores, restaurants and schools are.
"We have been dealing with website issues for a long time," said Jeff Thom, past president and government affairs director for the California Council of the Blind. "We want compliance. It is a serious problem, no question about it."
For a website to be accessible to disabled people, the content must be coded so that screen-reading software can convert the words to an audio translation. Video that appears on a website must include descriptions for the deaf. Also, all interactive functions must be operable through keyboard commands for people who can't use a mouse.
No formal government standards exist for private businesses to follow to ensure their websites comply with the ADA, although a consortium of web innovators has created guidelines, known as the Web Content Accessibility Guidelines, to make websites more accessible to disabled people. Government websites already follow those guidelines, but private business websites, which are typically loaded with images and video, tend to be more difficult to overhaul to meet the guidelines, experts say.
The cost of making sites accessible ranges from several thousand dollars to a few million dollars, depending on the complexity of the site, according to trade groups and business owners.
ADA lawsuits, filed in federal and state courts, have targeted the websites of retailers (including Winn-Dixie Stores Inc. supermarkets), restaurants (including Domino's Pizza Inc.) and universities (including Harvard and MIT).
The Hooters restaurant chain was sued last year, even after the chain agreed to fix its website as part of a settlement of a previous lawsuit. A federal appeals court ruled that Hooters remained vulnerable to lawsuits until it fixed the website under the previous lawsuit settlement.
Earlier this month, the American Council of the Blind announced that it had reached a settlement with the streaming service Hulu to make Hulu's website and software app more accessible to blind users.
The cost of defending such lawsuits can be burdensome for small businesses such as the Avanti Hotel.
Fixing the site would cost about $3,000, which hotel manager Jim Rutledge said he is willing to pay. But the lawsuit demands the hotel also pay damages to the plaintiff, and Rutledge said his lawyers advise him that he may have to settle for between $8,000 and $13,000.
"I would really like to fight it, but it just comes down to finances," he said, estimating that he could be forced to pay up to $25,000 in damages, plus lawyer fees, if he fights the suit and loses. In the meantime, several pages of the hotel's website have been replaced with plain type because "no access is equal access for everyone, per the ADA requirements," the site notes.
Some trade groups say the lawyers and plaintiffs who file many of these lawsuits are only interested in using the law to pocket hefty court-imposed damages.
"Simply put, for those who are abusing the system, it's about money, not about expanding access," said Peter Clerkin, a spokesman for the Asian American Hotel Owners Assn., which is advising its members to make websites ADA-compliant and not wait to get sued.
Since it was signed into law by President George H. W. Bush in 1990, the Americans with Disabilities Act has been cited thousands of times in lawsuits filed against hotels, restaurants and shops to remove physical barriers for disabled people.
As early as 2009, the act was cited in lawsuits that targeted the websites of businesses and universities, saying the online portals must be just as accessible to disabled people as the buildings that house businesses and schools.
In 2010, the Justice Department began to draft formal regulations for websites to meet ADA goals. But last December, the agency announced it was withdrawing its "rulemaking process," at a time when the Trump administration was calling for a rollback of federal regulations.
The department said it was killing the regulations because it was "evaluating whether promulgating regulations about the accessibility of web information and services is necessary and appropriate."
In a June 20 letter, 103 members of Congress — Republicans and Democrats — urged then-Atty. Gen. Jeff Sessions to adopt website regulations, saying the absence of such regulations "only fuels the proliferations of these suits."
Lawyers who defend ADA lawsuits say the Justice Department's actions to pull the plug on adopting new regulations may have instigated the latest surge in lawsuits.
Business owners who are sued under the ADA complain that the law allows plaintiffs to demand huge payouts in damages without first giving the business owner the opportunity to fix the websites.
California leads other states by far in ADA lawsuits , according to the Seyfarth Shaw analysis. That may be because a California law sets a minimum dollar amount for damages of $4,000 plus attorney's fees for each ADA violation, a minimum not imposed in most other states. The minimum, according to lawyers who defend such lawsuits, makes suing in California more lucrative.
The lawsuit against Rutledge's hotel was filed by Manning Law in Newport Beach. The plaintiff was Kayla Reed, who is described as a resident of Montana. Manning Law has filed 355 ADA cases, primarily in California, in the last 12 months, according to court records.
In an email, Joseph Manning, an attorney at Manning Law, declined to comment on the case against the Avanti Hotel, but rejected criticism that his lawsuits are intended to enrich him and his clients.
"This case will not be resolved without addressing the accessibility concerns in the complaint, of that I can assure you," he said.
Reed, who is described in the Avanti lawsuit as visually impaired, is listed as a plaintiff on more than three dozen lawsuits in federal court and in state courts in Ventura and San Bernardino counties, court records show. The defendants in her lawsuits include Kmart, Hugo Boss, David's Bridal and CVS Pharmacies.
The Los Angeles Times couldn't locate Reed, and Manning said she would not comment on her lawsuits. But he said that money is the "least important issue for her in these cases," adding that "private enforcement of these laws is also the means devised by Congress to enforce these laws without burdening the taxpayer."
Manning was listed as Reed's lawyer in a Ventura County Superior Court suit against CVS in 2017, according to court records. In the suit, she is described as a resident of Ventura County who was seeking $75,000 in damages, saying that the CVS website was not accessible to blind people.
The case was eventually transferred to U.S. District Court in Los Angeles. The case was dismissed Dec. 8, 2017, when the court was notified that a settlement had been reached. The details of that settlement were not disclosed.
Manning declined to comment on the settlement.
Asked to comment, CVS issued a statement saying the company is "committed to compliance with the Americans with Disabilities Act and other laws and regulations related to assisting individuals with disabilities."